If the reservation was successful, you should see your new reservation listed under My Upcoming Reservations on the Dashboard. If you have a lot of reservations, you may need to click View All at the bottom of the My Upcoming Reservations widget to see your appointment.

You can also locate a reservation directly from the Schedule.
Select View next to a reservation to see the Reservation screen showing the details.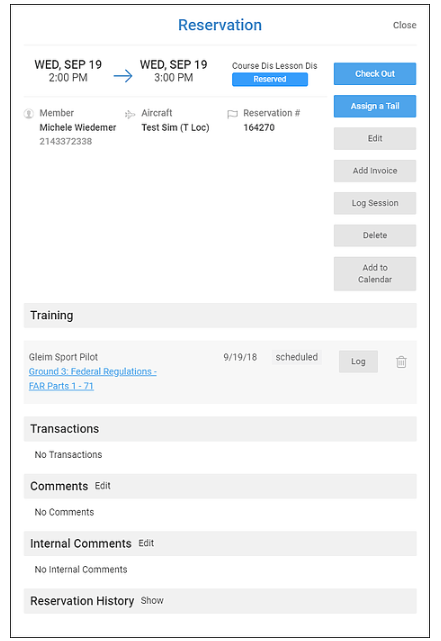 The Reservation screen allows you to quickly perform a number of activities:
Check out/check in - dispatch and record a flight, only if the reservation has already been assigned to a tail either automatically or manually
Assign a Tail - for reservations assigned to a scheduling group with manual tail assignments, you must assign a tail before you can check out
Add Invoice - enter new sales associated with this reservation
Log Session - log a training session associated with this reservation
Delete - cancel a reservation
Add to Calendar - add a calendar entry in ical, Google or Outlook format
Training - view information related to training associated with this reservation and perform additional actions

View scheduled training sessions - the Training section of the Reservations screen shows any scheduled training sessions associated with this reservation
View course/lesson details (i.e., for preflight study) - the reservation includes a course and lesson(s), click the link(s) to view the associated course overview and lesson information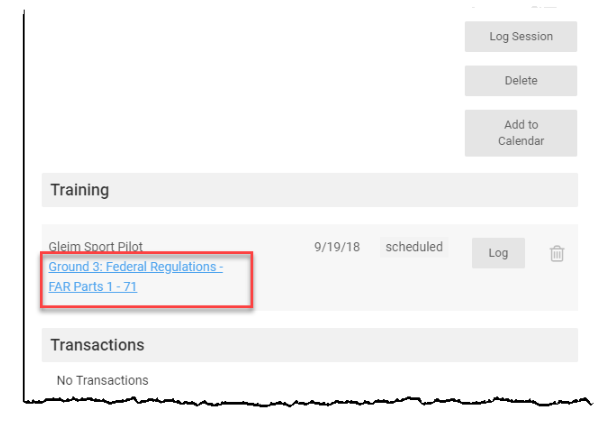 Log - Select Log next to a scheduled training session to log a training session associated with this reservation
View - Select View next to a logged training session to open the Training Sessions window or edit the session details by selecting Edit at the bottom of the Training Sessions window
Mismatch - Identify mismatch between logged training times and flight log.


Transactions - view information related to billing associated with this reservation and perform additional actions

View Invoice
Receive Payment
Edit Sale
Return/Refund
View Returns
Void/Delete

Flight - view flight information
Comments - view and edit comments
Internal Comments - view and edit internal comments
Reservation History - show details about any action taken on this reservation