Selling an Account Payment item (at the point of sale):
At the point of sale, go to the "Account" tab when adding a line item. From here, you can select any Account Payment items that have been defined in settings.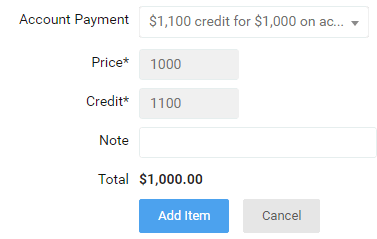 Selling the item above would require $1,000.00 in cash-equivalent payment (cash or credit card) and would increase the customers available balance by +$1,100 which could be used to purchase any product or service.
If account payments have been activated for the company, and if you have permission, your dashboard will display your current Account Balance and allow you to add funds or make a payment.
Allow Online Purchase of Account Payment items (Customer View)
Prerequisite: Your company must allow online payments, and you must have a permission level that includes "view my own balance."

To add funds or make a payment:
Select Home from the left-hand menu.
Select Add Funds or Make a Payment.

Select one of the predefined payment amounts or enter your own amount.
Select a stored card or enter new credit card information and your billing postal code.
Check the Save this card for future use box, if desired.
On the confirmation window, select Pay.
You can Print or Email the receipt