You can locate the Course Overview window for a student's enrollment in a course from different ways, depending on your role within Flight Schedule Pro.
View the student's course enrollment window and select View next to the course.
From My Training on the left navigation area, select View next to the course.
The Course Overview window includes student contact information, a progress summary and details for Training Sessions, Course Progress, Exams, and Documents. You can Log a Session or Schedule a Session for a student from the Course Overview window. You can also view information that includes an overview with related training materials and course minimums for the course.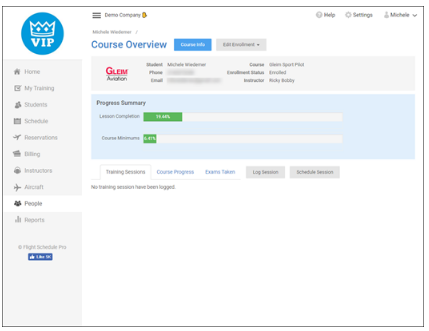 To view course information, select the Course Info button next to the Course Overview heading. Select the Overview or Course Minimums tab to view the detailed information for the course.