This article will explain how to configure mechanics in your system for use within Maintenance Hub.
Mechanic Toggle
Only users who are designated as a Mechanic will be available as an assignable user to work items, or as a signatory on logbook entries.
We recommend you setup at least one maintenance specific role to make configuring permissions easier and scalable. However, the following has to be done per user and is independent of permissions.
To enable a user as a mechanic, follow these simple steps:
Go to the People tab

NOTE: you must have the "View All Users & Groups" permission to see this tab.

Search for the person you want to make a mechanic and click to view their profile.
From the Account Settings drop down, select "Online Access"

NOTE: you must have the "Manage All Users" permission to see the Account Settings drop down.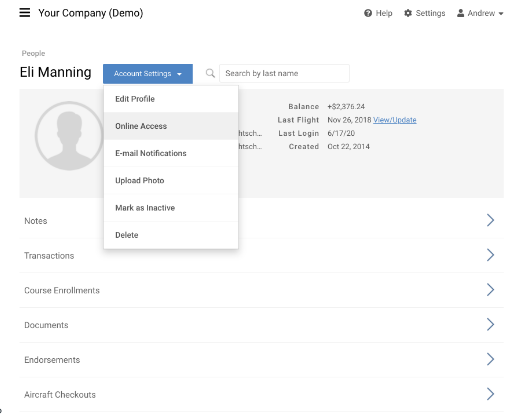 Then, enable the mechanic toggle and click Save.

NOTE: you must have the "Manage Resources" permission to be able to turn on mechanics.
Mechanic Certificate
For MX Hub subscribers, a new document will be available to add to your Mechanic users' profile to document their certificate.
Adding the Document in the System
You must first add the form to your library before you can add it to a Mechanic profile.
The user performing these steps needs the "Manage Company Settings" permission.
Go to Settings->General->Users->User Documents->Add from Library
Select FAA
Select "Mechanic Certificate (FAA)"
Select Add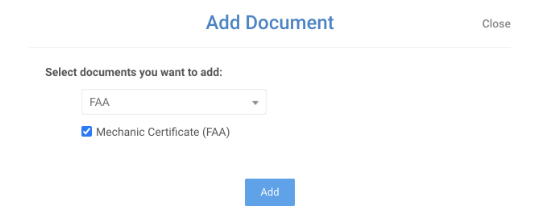 This will enable the document in FSP.
Add the Document to a User Profile
Once the document has been enabled, it's time to add it to your Mechanic's profile.
You must first enable the user as a mechanic before you can view or add the document to their profile. See above for details.
On a user's profile within the Documents section, find "Mechanic Certificate (FAA)" and click Add.
Complete the form.
If you enable Inspection Authorization, you will be required to enter an "Expires On" value.
Click "Save" and the document will now be added to the Mechanic's profile.
Mechanic Certificate in Logbook Entries
Once the document is added to a Mechanic profile, it will automatically be added to the logbook entries when that mechanic is chosen as the signatory. Their certificate number will be formatted using the following rules:
If a given signatory does not have a "Mechanic Certificate (FAA)" on file, then logbooks will display '#'.

If a given signatory has a "Mechanic Certificate (FAA)" on file and Rating = Repairman, then logbooks will display '12345678'

If a given signatory has a "Mechanic Certificate (FAA)" on file and Rating = A&P without IA, then logbooks will display 'A&P 12345678'

If a given signatory has a "Mechanic Certificate (FAA)" on file and Rating = A&P with IA, then logbooks will display 'A&P 12345678 IA'