Custom Reports are created using items from the Visual Library. These features require the Advanced Reporting Add-on.
Creating a Dashboard
Dashboards allow you to create an up-to-date view of visuals based on your selected analyses.
To create a new dashboard:
From the Reporting page, select Create/Build Dashboard.

The Visual Gallery opens with a list of available visualizations to add to your dashboard.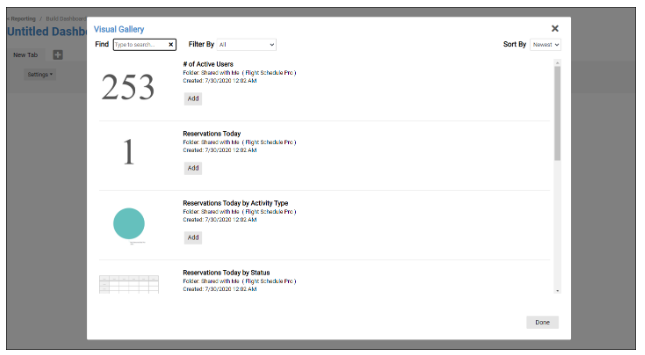 You can enter the name of a visualization in the Find field or use the Filter By drop down list to show All Visualizations, My Visualizations, or the default visualizations that have been provided by Flight Schedule Pro.

When you find a visualization that you want to include in your dashboard, select Add for that item.
When you have added all of the visualizations you want included in this dashboard, select Done.
To save the dashboard, select Rename and Save.
Give the dashboard a Name.
Select Save.
To rearrange the visuals on the dashboard, drag a visual block to a new location on the dashboard.
To add a filter to a dashboard visual, select the filter icon in the top right corner.
Select Filter.
Select the Filter Column from the drop down list to indicate what you want to filter.
Select the Comparison operator.
Enter the Value.
Select Add.

To adjust the dashboard:
Select Settings/Add Panels to open the Visual gallery to include additional visuals with this dashboard.
Select Settings/Add Global Filters to apply a filter to all of the visuals on the dashboard at once.
Select Settings/Change Layout to indicate the number of visuals you can show side-by-side in the dashboard.
Select Settings/Rename Tab to change the name of the Dashboard Tab.
Select the + next to the tab name to add another set of visuals to this dashboard.
Select Settings/Remove Tab to remove the current tab from the dashboard.
Sharing a Dashboard
You can share your dashboards from the Reporting page.
To share a dashboard:
Select the Options button to the right of the name of the dashboard you want to share.
Select Share.

Begin typing the name of the person to display your Flight Schedule Pro users.

Select the row for the person with whom you want to share the analysis.
Select Close.
You can stop sharing an item by selecting the trash can icon next to the name of that person under Shared With.