Selling a customer an account payment item at the point of sale puts credit on the customer's account, therefore it requires that the customer use a cash-equivalent payment method such as cash or credit card. The customer can then use this credit to purchase any product or service.
Set up your Account Payment items
Account Payment items you define in the settings section can be added as line items at the point of sale. They can also individually be made available for online purchase. Therefore, you'll want to create any variations you'd like to be available during a sale, or create specific payment items available online only, if needed.
To set up a new Account Payment or edit an existing one, go to Settings > Billing Hub > Account Payments
Add an Account Payment item: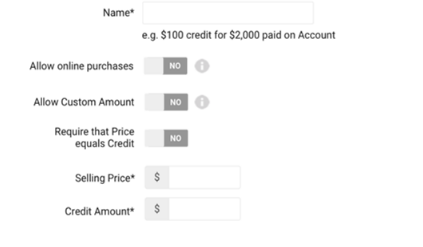 Name - brief and concise like "$1,000 account payment" or "Account Payment (custom amt)"
Allow online purchases- Allow users to purchase this account payment using a credit card while logged into their account. Even if this option is disabled, this item may still be selected as a line item at the point of sale.
Allow purchase when account balance is negative - Allow users who owe you money to purchase this account payment. It's common to disable this for account payments that offer bonus credit. (You may want to have a separate item for users who owe you money which offers no bonus credit)
Allow Custom Amount - Allow the Selling Price and Credit to be edited at the time of purchase. It's common to disable this if you want the account payments to give bonus credit for a specific payment amount.
Require that Price equals Credit - Require that the credit given be equal to the price paid. This may be useful if you want to allow a custom amount at the time of purchase but want to make sure the credit given is equal to whatever amount is paid.
Selling Price - The amount paid.
Credit Amount - The credit put towards the user's account.
For example, if a standard offering to customers is 10% bonus credit given for $1,000 put on account, enter $1,000 as selling price and a credit amount of $1,100.
See Billing Use Guide for working more information about using Account Payments