Flight Schedule Pro allows you to decide who can view and/or manage squawks and maintenance reminders. These permissions must be granted by an administrator using Roles (see Set Up User Roles).
Setting Maintenance/Squawk User Permissions
Go to "Settings" on the top right
Select "Users"
Select "Roles & Permissions"
Select the role to assign maintenance/squawk permissions and click "Edit".
Go to the "Permissions" tab.
Scroll down to the sections "Aircraft Squawks" and "Aircraft Maintenance."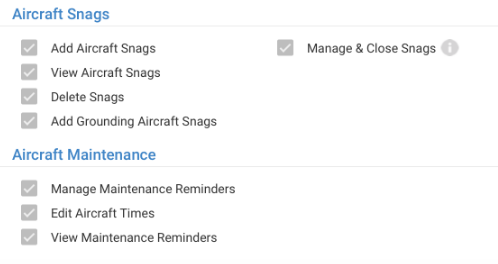 Click the relevant boxes to apply the permission(s) to this role.
Go back to the top and click "Save".