Flight Schedule Pro's Dispatching & Flight Recording module enables you to keep a log of flight time and/or instruction time for each reservation. Recording flights is a crucial element to streamlined operations in Flight Schedule Pro. Flight records become especially important if you want to track maintenance, enforce pilot currency, or take advantage of integrated billing.

In this article, we'll help you set up dispatching and flight recording in Flight Schedule Pro.
Set up aircraft meters
First review each aircraft and make sure you have the proper meters turned on and configured.
From the left-hand menu, go to "Aircraft"
Select the Aircraft
Click on "Edit"




Select "Aircraft Times" from the drop-down list.




Click "Edit" to enter the recorded information.
On the "Aircraft Times" window, enter the Hobbs and Tach information, as well as any other relevant settings.
Click "Save"
Set up instruction types
Set up Instruction Types if :
You offer flight instruction; AND,
You have different rates based on the type of instruction provided; OR,
You want to separate the logging of time for lessons (i.e. separate flight time vs. ground time)
To set up Instruction Types go to Settings > Scheduling > Instruction Types
Any types you set as "Active" will be visible when checking in flights and will appear on the Flight Detail report.
If you intend to set up Billing, each Instruction Type you activate will display a separate price field when setting up instructor line items.
Set up your printable dispatch sheet
The printable dispatch sheet is optional and is typically used by companies who have front desk personnel in charge of dispatching reservations. In this scenario, front desk staff will print a dispatch sheet and record details of the flight using a printed document.
For example, here's a common workflow:
Flight is scheduled
Front desk dispatches the flight (Check Out)
Front desk prints the dispatch sheet and gives it to the pilot
Pilot records the flight information on the dispatch sheet and returns it to the front desk after the flight
Front desk checks in the flight with the information on the dispatch
The contents of the dispatch sheet can be customized on a basic level:
Go to "Settings" at top right
Select "Aircraft"
Select "Dispatch Preferences"
Click "Edit"
On the "Printable Dispatch Sheet" window, set the different parameters to Yes or No.


Click Save


Set up Permissions
It's important to define who's allowed to dispatch/check out and check in flights. This is accomplished via User Roles. You must first verify which role is allowed to perform these tasks, then edit the role to set the correct permissions.
Go to the Roles list and select the role you want to edit
Go to "Settings" at top right
Select "Users"
Select "Roles & Permissions"
Select the Role by clicking "Edit"
Select the proper dispatching permissions for the role
On the "Edit Role" window, go to the "Permissions" tab.
Scroll down to the "Dispatching & Flights" section.
Click the relevant checkbox(es).
For example, a front desk staff might be allowed to dispatch all flights, while an instructor might be allowed to dispatch only his/her own flights.




Click "Save" at the top of the "Edit Role" window.



Set up scheduling & dispatch requirements
There are a number of items that can be validated at the time a reservation is made, or at the time of dispatch (documentation, flight recency, TSA, insurance, etc). Each Activity Type can be configured to have a unique set of scheduling and dispatch requirements. This section explains how to activate these requirements. It's recommended that you start simple with one or two requirements, then gradually add more. You can be as strict or lenient as you'd like, but keep in mind activating too many checks can be overly burdensome on users.

A couple questions you'll want to ask prior to setting these up:
What's critical for us to require when a reservation is booked?
What's critical for us to require at the time of dispatch?
Navigate to the Scheduling and Dispatch requirements section of the Activity Type:
Go to "Settings" on top right
Select "Scheduling"
Select "Activity Types"
Select the activity and Click "Edit"
Click "Scheduling and Dispatch Requirements"
Define the required checks:
Add requirements for each item you'd like to require at the time a reservation is made and/or when the flight is dispatched. Requirements are defined separately for the Customer, Instructor, and scheduler.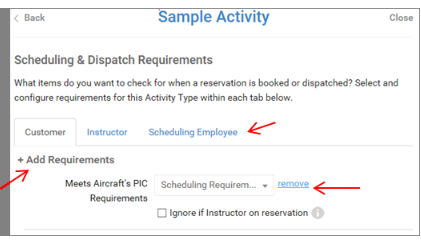 On the first user tab, click "Add Requirements" to set a new check requirement.
You can remove an existing check requirement and allow the bypassing of some checks for the customer when an instructor is on board.
Examples of checks include: valid documents for the customer, valid insurance and flight experience for the instructor.
Repeat for each different user as needed
Click Save