Page 1 | Business Overview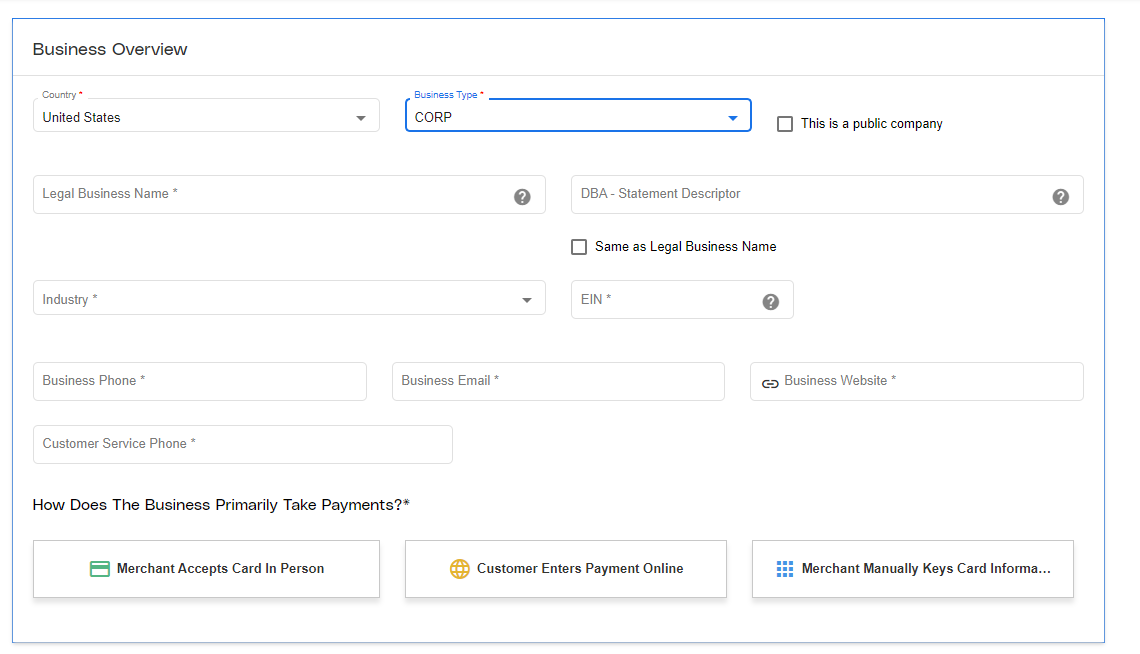 Country
Business Type

Select based on how your business was set up and categorized by the IRS

Legal Business Name

The name that is tied to the EIN and the IRS. Example: For Flight Schedule Pro, our legal name is Keyes Technology

DBA- Statement Descriptor

The name of the business that is known to your customers. Typically this is the name that is on signage, the website, or flyers. This is the name that will also appear on the card holder's bank statement after he/she is charged by the flight school, so it needs to be something familiar and recognizable to the card holder.

Industry

8299 if you are a school or provide any type of educational service

EIN

9 digit number issued to your business by the IRS. It should also tie back to the legal business name. If the business is a sole proprietorship, this will be the owner's SSN.

Business Phone

Use a phone number that customers can call should they have questions about billing, scheduling, etc.

Business Email

Use an email that customers can email should they have questions about billing, scheduling, etc.

Business Website

Website for the business. If the business does not have a website, use a link to the school's social media page

Customer Service Phone Number

Use a phone number that customers can call should they have questions about billing, scheduling, etc.

How does the business primarily take payments?

Select how most of the payments are currently accepted. If the school is new or you are unsure, select "Customer Enters Payment Online"
Page 2 | Business Details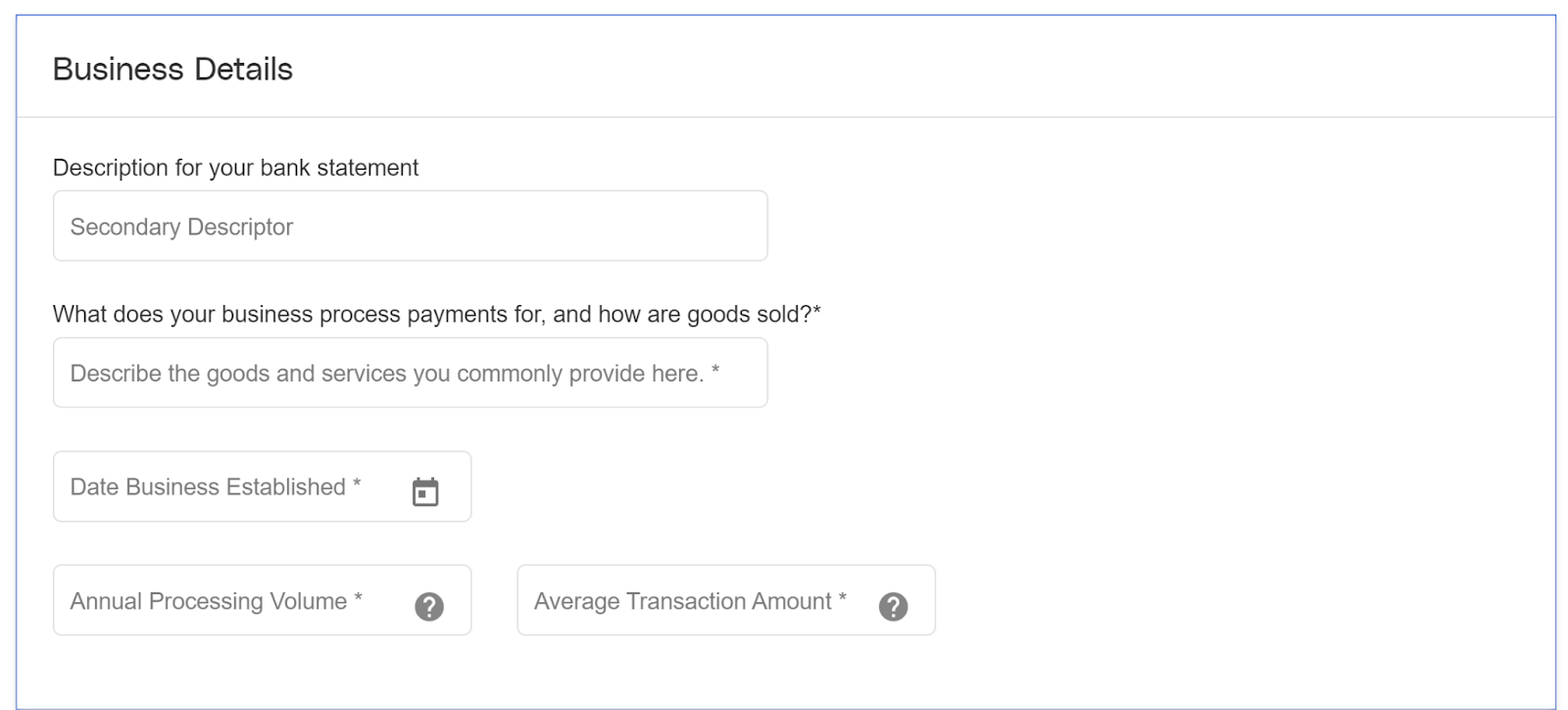 Description for your bank statement
What does your business process payments for, and how are goods sold?

Example: We provide flight training lessons, aircraft rentals, and general flight merchandise.

Date Business Established

The date the business began -approximately is OK

Annual Processing Volume

If you know this information, feel free to enter that amount. If you do not know, or if you are opening a new school, an educated guess will suffice

Average Transaction Amount

If you know this information, feel free to enter that amount. If you do not know, or if you are opening a new school, an educated guess will suffice
Page 3 | Business Address

This should be the DBA address

Where business is conducted, where classes are held, and/or transactions taken , etc.
NO P.O. Boxes
Page 4 | Account Login

You are able to create a username and password that will allow you to login directly to the payment partner's portal. It can be the same login as your Flight Schedule Pro login or it can be different.
The portal is there if you need it, but you do not need to go there to initiate transfer of funds.

Page 5 | Owner Information (or an individual with significant financial responsibility within your business)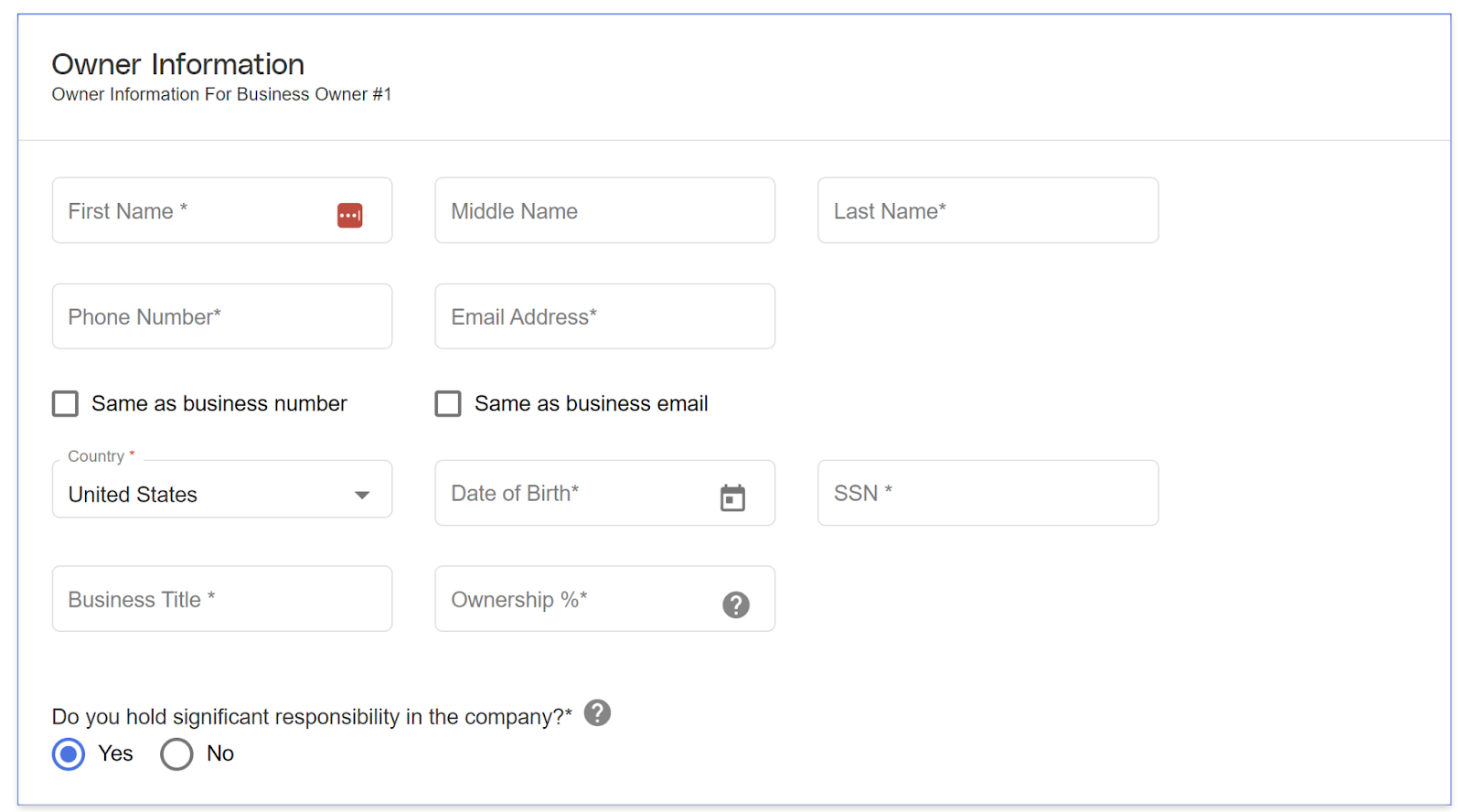 Name

Name of the person filling out the application (the Signer). This should be an owner and/or someone with financial responsibility for the business

Phone Number

Personal phone number of the signer

Email address

Email address for the signer

SSN

Social security number for the signer

Business Title-
Ownership %

Percentage of ownership of the signer (it is ok for this to be 0% if the person filling it out is not an owner)

Owner Address

Home address of the signer.
NO P.O. Boxes or UPS Store Addresses
Page 6 | Bank Information

This is the bank account that will receive funds. The account should be tied to the
business. It is best for you to select the "Link" option as it will be a "Plaid" experience. If you select the manual option, it COULD delay the approval process because a voided check may be required.
Page 7 | Terms and Conditions

The signer needs to click on the hyperlinks, then check the boxes, and then click "Sign Up"